There are a large number of 2020 calendars on the internet. But you get many benefits if you choose our calendar for the year 2020.
Free Printable Yearly Calendars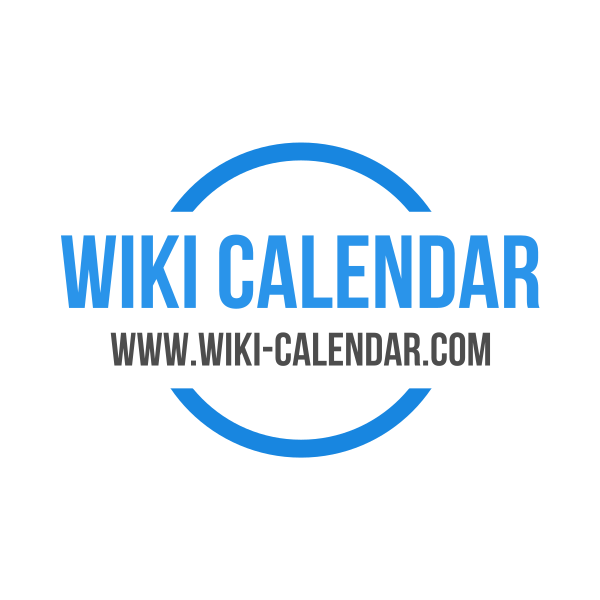 We offer our beautifully designed 2020 calendar absolutely free. On Wiki Calendar, you can download free printable calendar for 2020 templates in either JPG image or PDF format. We have 2020 Floral Calendar templates also for flower lovers. It doesn't only looks gorgeous but has a number of advantages also over other calendars on the internet.
We offer the blank calendar templates also. It provides you with a lot of free space. You can write memos and reminders on any date you want. You can also fill up this space with birthdays of your loved ones and upcoming events. If you like simple calendar templates, then it is best for you.
What is the history of Calendars?
History of calendars is very old. According to historians, the use of calendars started in the Bronze age. It was because of the improvement in writing in ancient Near East. Name of the very first calendar was the Sumerian calendar. Many more calendars came after that one after one. There are many calendar systems of the ancient Near East in the Iron age records.
The earliest type of calendar was the Solar day. It was just an observation of light and darkness periods. The arbitrary calendar was also a basic type of calendar. It only calculated the number of days until the end of time. There were undoubtedly many issues with this calendar. It had no link with the seasons. Therefore farmers were unable to plant their crops at the right time.
The Egyptian calendar was the first scientific calendar. It had 12 months. Also, each month had 30 days. The Babylonian calendar came later. It was a lunisolar calendar. The Democratic State calendar of Greeks had 10 months.
Romulus created the first Roman calendar. It had 10 months. Each month was either 30 days or 31 days long. The most popular Roman calendar is the Julian Calendar. Julius Caesar introduced it in 45 BC. One year of this calendar had 355 days. It also had 12 months.
Gregorian calendar was introduced in the late 16th century. By the 20th century, almost the whole world was using it. Until today, it is the most widely used calendar in the world.
What are the calendar systems?
Briefly, there are three types of calendar systems. The first one is the Solar calendar system. In this system, a day completes between two successive events. These events can be two sunrises or sunsets or something else. The gregorian calendar uses this system.
The second type is the Lunar calendar system. It depends on the moon phases. One month of Lunar calendar completes when the moon phases complete one cycle from new moon to new moon. The Islamic calendar is an example of this system.
The third type is the Lunisolar calendar system. It adds a 13th month to the calendar on 7 occasions in a period of 19 years to realign with the seasons. An example of this system is the Hebrew calendar.
Which calendars are currently in use?
Gregorian calendar is undoubtedly the most widely used Calendar in the world. But still, there are some regions in the world which uses their traditional calendars. Other calendars which are popularly used in some regions are Julian calendar, Hebrew calendar, Hijri calendar, Iranian-Muslim calendar, Buddhist calendar, Japanese calendar, Chinese calendar, and few more Hindu calendars.
These calendars are based on different calendar systems. Some of these are religious calendars while some are national calendars. For example, the Hijri calendar is a religious calendar. Only Muslim religion people follow it. While the Chinese calendar is a national calendar. Only Chinese people use it.
Printable Monthly Calendar for 2020
January 2020 Calendar
January is the 1st month of calendar. January was named after the God of beginnings and transformations, Janus. It became a part of calendar in 719 B.C. But at that time, it had only 29 days. January 2020 has many special observances. Our January 2020 calendar has a mention of all the important holidays. Popular January 2020 holidays are New Year's Day and Martin Luther King Jr. Day.
February 2020 Calendar
February is the most romantic month of the year. It is the 2nd month of both Gregorian and Julian calendar. It is the only month with less than 30 days. February name came from the Latin word Februum. This Latin word means to purify. You can download our February 2020 calendar templates for free. Valentine's Day and Presidents' Day are popular holidays of February 2020 in the United States.
March 2020 Calendar
March is the 3rd month of year. March got its name from the Roman God of war. Earlier, it was the first month of year. It has 31 days. Some people still celebrate new year in the month of March. You will receive a lot of compliments for your new March 2020 calendar. Super Tuesday and St. Patrick's Day are the popular March 2020 holiday.
April 2020 Calendar
April is the 4th month of calendar. It has 30 days. April is the best month to plant fruits and vegetables in your field. If you are looking for a calendar to remind you of all of your April 2020 activities then you should download our April 2020 calendar. This month starts with April Fools Day on 1st April. Easter Sunday, Easter Monday and Tax Day are the popular holidays of April 2020.
May 2020 Calendar
May is the 5th month of year. It has 31 days. It is also the last month of Spring season. May is named after Maia which is a sign of fertility and goodness. May is full of holidays for American citizens. Our May 2020 calendar has all the holidays mentioned on it. Popular holidays of May 2020 are Cinco de Mayo, Mother's Day, and Memorial Day.
June 2020 Calendar
June is the 6th month of year. It has 30 days. Name of this month is derived from the word Julian. Earlier, its name was Lucius. Summer starts with this month. Many people also believe that June is the best month to get married. Our June 2020 calendar will surely help you change your lifestyle in a positive manner. Flag Day and Father's Day are two popular holidays of June 2020.
July 2020 Calendar
July is the 7th month of year. It has 31 days. Earlier it was the 5th month of year but then January, February were added to the calendar. Therefore, it became the 7th month. July is an important month in the history of the United States. America became an independent nation on the 4th of July. Make the most out of your July 2020 with our free July 2020 calendar. Independence Day is the popular holiday of July 2020. It will be on July 4.
August 2020 Calendar
August is the 8th month of year. It is also the second consecutive month with 31 days. Summer ends with this month. Because it was the sixth month of calendar in the Roman calendar, its previous name was Sextilis. Our August 2020 calendar will help you create memos and reminders on the free space available on calendar. Two of the most important holidays of August 2020 are Assumptions of Mary and Victory Day.
September 2020 Calendar
September is the 9th month of year. It has a total of 30 days. The name September is derived from a Roman word "Septem". Septem means seven in English because earlier it was the 7th month of calendar. It is the first month of autumn in many parts of the world. If you are wondering what will make your September 2020 awesome then we have a beautiful September 2020 calendar for you. Labor Day is the most important festival in September 2020.
October 2020 Calendar
October is the 10th month of year. It has 31 days. It also has Halloween on its last day. Its name came from the Latin word octo which means eight in English. Its because earlier it was the 8th month of calendar. Later when January and February became a part of calendar, it shifted below and became the 10th month of the year. There are a number of features in our beautiful October 2020 calendar to make your October worth it. Both Columbus Day and Halloween are popular October 2020
holidays.
November 2020 Calendar
November is the 11th month of year. It has 30 days. November got its name from a Latin word Novem. Novem means nine in English because it was the ninth month of year in previous versions of calendars. It is also the last month of the fall season. This month also signals the start of the winter season. Our November 2020 calendar also has all the November 2020 holidays mentioned already. Therefore, you can make all your plans well before your holidays. Election Day, Veterans Day, Thanksgiving Day and Black Friday are the important holidays of November 2020.
December 2020 Calendar
December is the last month of year. It has 31 days. It falls in the winter season. Earlier it was the 10th month of the calendar. Because it is the Christmas month, lot of people spend their time shopping. The shortest day and longest night of the year also comes in this month. Everyone wants to end their year on a high note. Having a beautiful December 2020 calendar is one of the best ideas to get started. Christmas Eve, Christmas Day, and New Year's Eve are the important fests of December 2020.